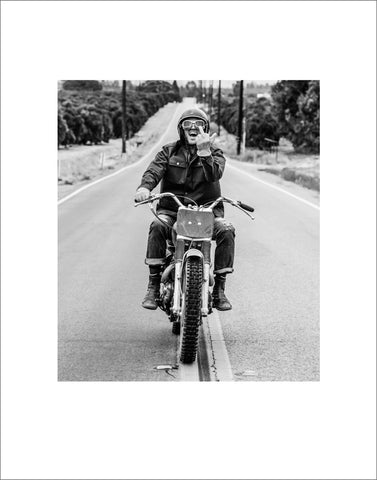 Fuck You by Heidi Zumbrun
$60.00
Printed on Canson Infinity PhotoSatin Premium RC paper 270 gsm
Mounting options order separately: Foamcore or Floating Wall Mount
Bio:
Based in Los Angeles. Motorcycle rider. Surfer. Artist.
Born in Northern California, Heidi is a life-long fine art and commercial photographer who now resides in the City of Angels.
With roots seated deeply in the California surf, skate and motorcycle worlds, her vision provides a firsthand photographic diary of beach and street cultures. Her editorial perspective is fueled by a love of fashion, good waves, wheels and the lifestyle that goes along with it.
Heidi received a BFA from UC Santa Barbara and an MFA from the San Francisco Art Institute. Her photographs are included in the permanent collection at the San Francisco Museum of Modern Art, Berkeley Museum, Denver Museum, and the Ulrich Museum. She is a recipient of the Phelan Award, Alexander Gerbode Foundation Award, and the Artadia Fund for Art & Dialogue. Her photos have been featured in magazine and book publications such as Playboy, Moto Heroes Magazine, Elle, InStyle, Photo District News & Dice Magazine, Meta , Mens File Magazine, Brummm Chronicles etc. You can find Heidi's work at heidizumbrun.com and on Instagram at heidizumbrun.
• For international sales outside the US, please contact us before ordering